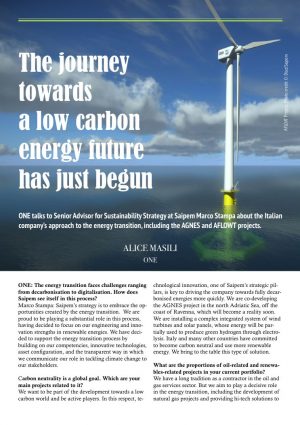 ONE talks to Senior Advisor for Sustainability Strategy at Saipem Marco Stampa about the Italian company's approach to the energy transition, including the AGNES and AFLOWT projects.
ONE: The energy transition faces challenges ranging from decarbonisation to digitalisation. How does Saipem see itself in this process?
Marco Stampa: Saipem's strategy is to embrace the opportunities created by the energy transition. We are proud to be playing a substantial role in this process, having decided to focus on our engineering and innovation strengths in renewable energies. We have decided to support the energy transition process by building on our competencies, innovative technologies, asset configuration, and the transparent way in which we communicate our role in tackling climate change to our stakeholders.
Carbon neutrality is a global goal. Which are your main projects related to it?
We want to be part of the development towards a low carbon world and be active players. In this respect, technological innovation, one of Saipem's strategic pillars, is key to driving the company towards fully decarbonised energies more quickly. We are co-developing the AGNES project in the north Adriatic Sea, off the coast of Ravenna, which will become a reality soon. We are installing a complex integrated system of wind turbines and solar panels, whose energy will be partially used to produce green hydrogen through electrolysis. Italy and many other countries have committed to become carbon neutral and use more renewable energy. We bring to the table this type of solution.
What are the proportions of oil-related and renewables-related projects in your current portfolio?
We have a long tradition as a contractor in the oil and gas services sector. But we aim to play a decisive role in the energy transition, including the development of natural gas projects and providing hi-tech solutions to develop renewable energies. That's why we have pursued a non-oil strategy, and to date, more than 70% of the company's current backlog is non-oil related. We are focused on both blue and green hydrogen production technologies. We are also developing a specific floating offshore wind technology: Hexaflot. The testing of the first full-scale prototype is currently underway off the coast of Ireland for a project called "AFLOWT" (Accelerating market uptake of floating offshore wind technology), supervised by EMEC – The European Marine Energy Center. The project has a value of 31 million euros, partly funded by the European Union. Floating offshore wind is becoming an increasingly important new renewable energy sector. It gives us the possibility to increase the generation of renewable energy in mature markets, like Northern Europe, and in areas where the environmental conditions did not favour wind energy development. Due to the extended distance from the coast, such technology also has less impact on the landscape, fishing and tourism.
You purchased a new CO2 capture technology from the Canadian company CO2 Solutions Inc (CSI): can you tell us why it is so innovative and what are your expectations?
CSI is a leading innovator in enzyme-enabled carbon capture, and its technology lowers the cost barrier to post-combustion Carbon Capture enabling Sequestration and Utilisation (CCUS), making the industry able to derive profitable new products. The assets and technology purchased will help us expand our green products portfolio and underpin our journey towards a low carbon energy future. Also, the agreement we have signed with Snam is consistent with the decarbonisation process that we are both committed to pursuing in all our activities. This agreement aims to define and develop green hydrogen production and transport initiatives and carbon dioxide capture, transport and reuse or storage (CCS and CCU). We already started working together on new energy transition technologies, from green hydrogen to capturing and reusing CO2. We are focusing on developing the technology of water electrolysis. This process makes it possible to reduce CO2 emissions to zero in the production of green hydrogen, thus creating a powerful and effective tool in fighting climate change.
The energy efficiency concept is gaining traction. Is Saipem entering that area too?
Yes, absolutely. The concept of energy efficiency is crucial to us. Energy efficiency initiatives are embedded in Saipem's portfolio, both regarding the construction of new plants with state of the art and innovative solutions to optimize efficiency, and the retrofitting of existing plants to reduce waste and energy consumption. It is a must in every operation of the company. On the other side, we are continuing to improve our overall energy efficiency and to reduce emissions from our assets. In 2018, we established a 4-year Group Strategic Plan for greenhouse gas reduction, identifying three pillars to guide our decarbonisation efforts: greater energy efficiency in all internal operations, the CO2 value chain management and specific gas emissions reduction activities. This program has been recently re-defined launching a "Four-year Strategic Plan" to reduce greenhouse gas emissions from our own assets and operations. We estimate a comprehensive reduction of 26.7kt of CO2 in the 2020 timeframe. In addition, following Paris Agreement prescriptions, Saipem is targeting a 50% reduction for Scope 1 and Scope 2 emissions by 2035 and, in particular, to achieve Net Zero by 2025 for Scope 2.
The Sustainable Development Goals strongly recommend that creating pure economic value cannot be the only goal for a modern company. How will Saipem convince investors that tackling climate change should be part of their business?
Sustainability for Saipem is no longer just a commitment or a choice of social responsibility. It is the new frontier of competitive growth. The fight against climate change is universally recognised as paramount to sustainable development. The Covid-19 pandemic's local origin and global consequences remind us of this principle to be committed to environmental protection and fight to mitigate climate change. Saipem, in adhering to United Nations Global Compact, has made the Sustainable development goals a distinctive feature of its work – promoting best practices among its partners and investing in innovation to offer a technological platform for a sustainable business vision. ONE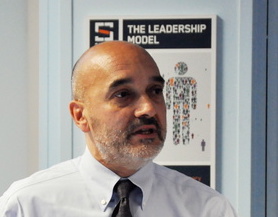 Marco Stampa is Senior Advisor for Sustainability Strategy at Saipem. He began to work at the Italian National Research Council and since 1992 in Eni with various roles in the Environment & Safety units. After an experience in the Kashagan Project as Strategic Impact Assessment project manager, since 2002 he has been CSR/Stakeholder Relations manager to join Saipem in 2008 as Corporate Sustainability Manager. Often teacher and speaker at many academy and training courses and webinars, he is also a member of CSR Manager Network Board of Directors and the Scientific Committee, Center for Sustainability at Fondazione Cà Foscari, University of Venice.