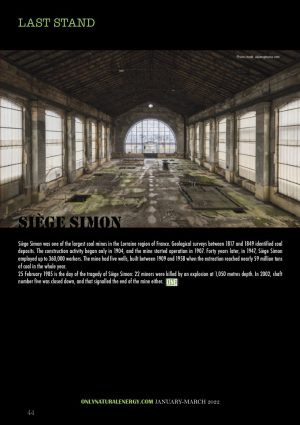 Siège Simon was one of the largest coal mines in the Lorraine region of France. Geological surveys between 1817 and 1849 identified coal deposits.
The construction activity began only in 1904, and the mine started operation in 1907.
Forty years later, in 1947, Siège Simon employed up to 360,000 workers.
The mine had five wells, built between 1909 and 1958 when the extraction reached nearly 59 million tons of coal in the whole year.
25 February 1985 is the day of the tragedy of Siège Simon: 22 miners were killed by an explosion at 1,050 metres depth. In 2002, shaft number five was closed down, and that signalled the end of the mine either. ONE