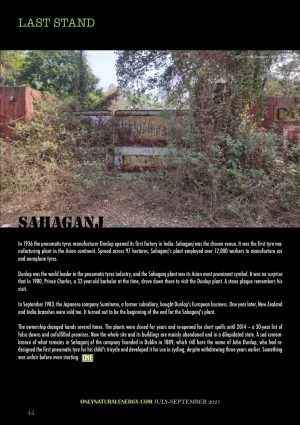 In 1936 the pneumatic tyres manufacturer Dunlop opened its first factory in India. Sahaganj was the chosen venue. It was the first tyre manufacturing plant in the Asian continent. Spread across 97 hectares, Sahaganj's plant employed over 12,000 workers to manufacture car and aeroplane tyres.
Dunlop was the world leader in the pneumatic tyres industry, and the Sahaganj plant was its Asian most prominent symbol. It was no surprise that in 1980, Prince Charles, a 32-year-old bachelor at the time, drove down there to visit the Dunlop plant. A stone plaque remembers his visit.
In September 1983, the Japanese company Sumitomo, a former subsidiary, bought Dunlop's European business. One year later, New Zealand and India branches were sold too. It turned out to be the beginning of the end for the Sahaganj's plant.
The ownership changed hands several times. The plants were closed for years and re-opened for short spells until 2014 — a 30-year list of false dawns and unfulfilled promises. Now the whole site and its buildings are mainly abandoned and in a dilapidated state. A sad remembrance of what remains in Sahaganj of the company founded in Dublin in 1889, which still bore the name of John Dunlop, who had re-designed the first pneumatic tyre for his child's tricycle and developed it for use in cycling, despite withdrawing three years earlier. Something was unfair before even starting. ONE