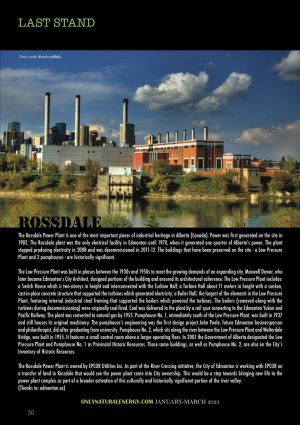 The Rossdale Power Plant is one of the most important pieces of industrial heritage in Alberta (Canada).
Power was first generated on the site in 1902. The Rossdale plant was the only electrical facility in Edmonton until 1970, when it generated one quarter of Alberta's power. The plant stopped producing electricity in 2008 and was decommissioned in 2011-12.
The buildings that have been preserved on the site – a Low Pressure Plant and 2 pumphouses – are historically significant.
The Low Pressure Plant was built in phases between the 1930s and 1950s to meet the growing demands of an expanding city. Maxwell Dewar, who later became Edmonton's City Architect, designed portions of the building and ensured its architectural coherence. The Low Pressure Plant includes: a Switch House which is two-storeys in height and interconnected with the Turbine Hall; a Turbine Hall about 11 meters in height with a sunken, cast-in-place concrete structure that supported the turbines which generated electricity; a Boiler Hall, the largest of the elements in the Low Pressure Plant, featuring internal industrial steel framing that supported the boilers which powered the turbines. The boilers (removed along with the turbines during decommissioning) were originally coal-fired. Coal was delivered to the plant by a rail spur connecting to the Edmonton Yukon and Pacific Railway. The plant was converted to natural gas by 1955.
Pumphouse No. 1, immediately south of the Low Pressure Plant, was built in 1937 and still houses its original machinery. The pumphouse's engineering was the first design project John Poole, future Edmonton businessperson and philanthropist, did after graduating from university. Pumphouse No. 2, which sits along the river between the Low Pressure Plant and Walterdale Bridge, was built in 1955. It features a small control room above a larger operating floor.
In 2001 the Government of Alberta designated the Low Pressure Plant and Pumphouse No. 1 as Provincial Historic Resources. Those same buildings, as well as Pumphouse No. 2, are also on the City's Inventory of Historic Resources.
The Rossdale Power Plant is owned by EPCOR Utilities Inc. As part of the River Crossing initiative, the City of Edmonton is working with EPCOR on a transfer of land in Rossdale that would see the power plant come into City ownership. This would be a step towards bringing new life to the power plant complex as part of a broader activation of this culturally and historically significant portion of the river valley.
For more information:
email rivercrossing@edmonton.ca
(from www.edmonton.ca)