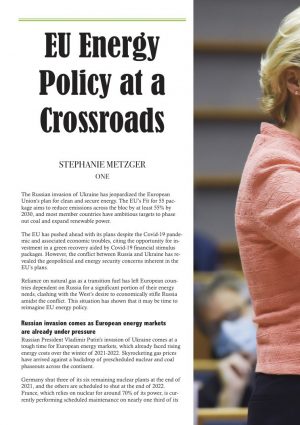 The Russian invasion of Ukraine has jeopardized the European Union's plan for clean and secure energy. The EU's Fit for 55 package aims to reduce emissions across the bloc by at least 55% by 2030, and most member countries have ambitious targets to phase out coal and expand renewable power.
The EU has pushed ahead with its plans despite the Covid-19 pandemic and associated economic troubles, citing the opportunity for investment in a green recovery aided by Covid-19 financial stimulus packages. However, the conflict between Russia and Ukraine has revealed the geopolitical and energy security concerns inherent in the EU's plans.
Reliance on natural gas as a transition fuel has left European countries dependent on Russia for a significant portion of their energy needs, clashing with the West's desire to economically stifle Russia amidst the conflict. This situation has shown that it may be time to reimagine EU energy policy.
Russian invasion comes as European energy markets are already under pressure

Russian President Vladimir Putin's invasion of Ukraine comes at a tough time for European energy markets, which already faced rising energy costs over the winter of 2021-2022. Skyrocketing gas prices have arrived against a backdrop of prescheduled nuclear and coal phaseouts across the continent.
Germany shut three of its six remaining nuclear plants at the end of 2021, and the others are scheduled to shut at the end of 2022. France, which relies on nuclear for around 70% of its power, is currently performing scheduled maintenance on nearly one third of its nuclear reactors. As a result, the country has been forced to import electricity from its neighbours at a time when resources are already strained.
Many countries are also in the process of phasing out coal power. According to national energy and climate plans, the majority of EU countries will have closed their remaining coal plants by 2030. Only Poland, Czechia, and Bulgaria intend to have any significant level of coal power past this date.
Rising gas prices have hit extra hard in this context. As of the week of March 14, gas prices hit a record high of €335 per megawatt hour. Consumers' bills are rising, sparking unrest in the general population and unease across the governments of Europe.
Coal use has also made a comeback as the economics of gas become more unfavourable, even in light of high carbon prices. Italian Prime Minister Mario Draghi has floated the idea of reopening some of the country's coal plants in order to reduce its dependence on Russian gas, which currently supplies 45% of Italy's gas demand.
Germany is considering extending the operational lifetime of its nuclear plants to bridge any shortages, and other countries such as Poland and Romania are moving forward on plans to build new nuclear. All of these changes are being made in an effort to break Europe's reliance on Russian oil and gas, which currently account for around 40% of gas and one third of oil imports.
European reliance on Russian oil and gas undermines leverage in the Ukraine conflict
The importance of European energy independence from Russian oil and gas has only been heightened in light of the Russian invasion. Putin has used his country's oil and gas supplies for diplomatic leverage in the past, and the most recent round of European sanctions against Russia have been blunted by the exclusion of vital energy products.
And while the US has banned Russian oil and gas in response to the conflict, European leaders have been hesitant to take such a step without first securing a new supply of gas from alternate sources. For example, UK Prime Minister Boris Johnson has been negotiating to increase supplies from Saudi Arabia, while the Italian Foreign Minister has said that they have increased imports from Algeria.
Germany has emerged as perhaps the most conflicted state in this regard. Under Chancellor Angela Merkel, Germany generally maintained good relations with Putin, and the personal relationship between the two leaders was seen as an important diplomatic channel for the West.
However, the new governing coalition, led by Chancellor Olaf Scholz, lacks a clear policy toward Russia. Initially, the government took a softer stance on the Russian invasion than many of its neighbours, resisting calls to send military assistance to Ukraine and implement strong sanctions against Putin's allies.
Former Chancellor Gerhard Schröder has also made overtures to Putin as a potential negotiator, despite a lack of authorisation from the official German government to do so.
Hanging in the balance was the Nord Stream 2 pipeline, which would provide a new infusion of Russian gas to a country that increasingly relies on the fuel to replace nuclear and coal plants. Ultimately, though, Scholz announced that the government would halt the certification of the pipeline, denying Putin some of the leverage he previously held over the continent.
More generally, the conflict has emphasised the importance of energy security and independence. EU efforts to decarbonise the power system have often come about by increasing the reliance on energy imports.
The pre-existing crisis of high energy costs, now compounded by the situation in Ukraine, have highlighted the pitfalls of this approach – for both cost of living and effective diplomacy.
A chance for systemic change

As difficult as the current situation is for both governments and consumers, the conflict offers a stark choice for the future of the European energy system.
Plans to use gas as a 'bridge' fuel towards decarbonisation may not be as sustainable an option as previously thought. Nuclear may now see a revival, and momentum for the use of carbon capture and storage (CCS) may increase as well. Energy storage and power grid modernisation have also taken centre stage as countries grapple with unstable energy supplies. Although the recent state of affairs seems dire, it also offers Europe a chance to take bold steps toward a more sustainable and independent energy system.
Such changes are not without precedent. In response to the energy crisis of the 1970s, France remade its energy system. Faced with rising costs and a reliance on imports for 75% of national energy demand, France transformed its coal-based energy system by building out a large fleet of nuclear power plants.
The share of nuclear rose from 2% in the 1970s to 30% in the 1990s and now accounts for 70% of electricity generation. As a result, the country now relies on nuclear and renewables for 90% of its power needs and is a net exporter of electricity.
The rest of Europe should pursue a similar policy to divest itself from Russian oil and gas. Countries need to focus on using domestically available sources of energy. Renewable power, such as solar, wind, and geothermal energy, should receive increased investment. EU policy already includes a focus on renewables, but it is crucial to move on such plans without delay.
European Commission President Ursula von der Leyen has made this message clear in recent speeches, stating that 'We need to act now to mitigate the impact of rising energy prices, diversify our gas supply for next winter and accelerate the clean energy transition.'
Europe also has significant coal, biomass, and waste resources, which could be revitalised with the use of CCS.
A few CCS hubs are already under development in the UK, Norway, and the Netherlands, and the current crisis should underscore the importance of these projects to potential investors and partners. They may provide a method of using domestic energy resources while still maintaining adherence to the EU's climate goals.
There should also be a stronger focus on modernising the power grid. Already in response to the crisis, the Ukrainian and Moldovan power grids have been synchronised with the Continental European Grid.
This action removed the two nations from the legacy Soviet grid which also includes Russia and Belarus. While plans to link Ukraine and Moldova to the European power grid already existed, the invasion caused grid operators to rush to complete the work over a year early.
Grid interconnectors are seen as a vital way to support Ukraine during the crisis: if domestic power sources are damaged, other European countries could export power to help keep essential services running.
Further than this immediate need, European countries should continue to strengthen the interconnections between their national grids.
Doing so would help to maintain a stable electricity supply as the use of variable renewable energy increases. It can also help to balance the effects of domestic shortages, whether from unplanned outages or disruption due to routine maintenance. In general, grid modernisation and flexibility will be key for enabling the transition to a sustainable energy system.
The time for change is now
While the choices to be made about the energy system are complex, that is not an excuse to delay. The conflict in Ukraine has underscored the need for immediate action from national and EU leaders. And the EU has been remarkably united in the weeks following the Russian invasion, in contrast to its often-chaotic process. Leaders should harness this spirit of action and cooperation to make bold changes to the EU's energy transition pathway. Doing so will not only show Russia that the rest of Europe is a united front that will not be complicit in enabling Russian expansionism – it will also help the EU achieve its decarbonisation goals.
Stephanie Metzger