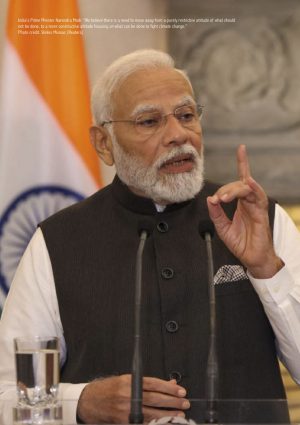 Words matter. If appropriate, they help understanding. And even if imprecise or absent, they help, as they often reveal the underlying intention or end goal.
A few years ago, the Trump administration removed the term climate change from official communications to replace it with extreme weather. Even though the weather is what happens today, the climate is what happens over the long run. This deliberately misleading substitution served the narrative that climate change was a hoax and so were the main arguments against the exploitation of fossil fuels.
It is a mistake to equate Trump's wordplay with India's demand to talk about phasing down from fossil fuels instead of phasing out—reduction instead of elimination.
And while one might think that India is playing with words or denying reality, the opposite is true.
Fossil fuels' phase-out is a mirage. The numbers cast doubt on whether one can credibly speak of phase down. India has an estimated 65.3 GW of proposed on-grid coal capacity under development—30.4 GW under construction and 34.9 GW in pre-construction. This capacity represents nearly a third of the country's operational on-grid, non-export coal capacity (212.5 GW).
The mirage of a decarbonised world is not only for India. According to Enerdata's World Energy & Climate Statistics – Yearbook 2023, in 2022, global energy demand rose, and 81 per cent of the total supply was provided by oil (30 per cent), coal (28) and gas generation (23). In the International Energy Agency's World Energy Outlook 2023 scenario, the share of fossil fuels in the global energy supply declines to 73% only in 2030. In the meantime, subsidies for fossil fuels are soaring—more than €900 billion in 2022, the highest figure ever recorded.
Fossil fuels out? Not even close. Fossil fuels down? Not yet.
Gianni Serra