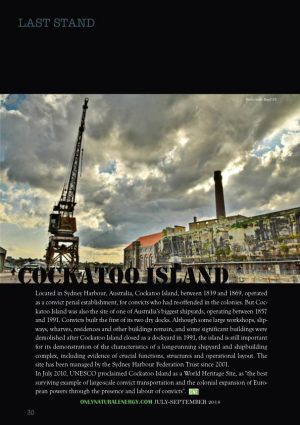 Located in Sydney Harbour, Australia, Cockatoo Island, between 1839 and 1869, operated as a convict penal establishment, for convicts who had re-offended in the colonies. But Cockatoo Island was also the site of one of Australia's biggest shipyards, operating between 1857 and 1991.
Convicts built the first of its two dry docks. Although some large workshops, slipways, wharves, residences and other buildings remain, and some significant buildings were demolished after Cockatoo Island closed as a dockyard in 1991, the island is still important for its demonstration of the characteristics of a long-running shipyard and shipbuilding complex, including evidence of crucial functions, structures and operational layout.
The site has been managed by the Sydney Harbour Federation Trust since 2001.
In July 2010, UNESCO proclaimed Cockatoo Island as a World Heritage Site, as "the best surviving example of large-scale convict transportation and the colonial expansion of European powers through the presence and labour of convicts".