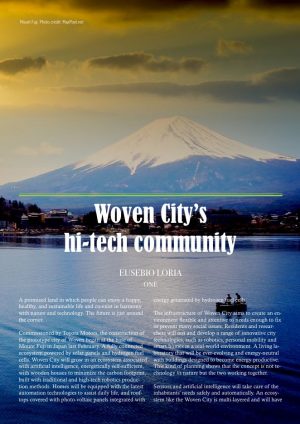 A promised land in which people can enjoy a happy, healthy, and sustainable life and co-exist in harmony with nature and technology. The future is just around the corner.
Commissioned by Toyota Motors, the construction of the prototype city of Woven began at the base of Mount Fuji in Japan last February. A fully connected ecosystem powered by solar panels and hydrogen fuel cells. Woven City will grow in an ecosystem associated with artificial intelligence, energetically self-sufficient, with wooden houses to minimize the carbon footprint, built with traditional and high-tech robotics production methods. Homes will be equipped with the latest automation technologies to assist daily life, and rooftops covered with photo-voltaic panels integrated with energy generated by hydrogen fuel cells.
The infrastructure of Woven City aims to create an environment flexible and attentive to needs enough to fix or prevent many social issues. Residents and researchers will test and develop a range of innovative city technologies, such as robotics, personal mobility and smart homes in a real-world environment. A living laboratory that will be ever-evolving and energy-neutral with buildings designed to become energy productive. This kind of planning shows that the concept is not technology vs nature but the two working together.
Sensors and artificial intelligence will take care of the inhabitants' needs safely and automatically. An ecosystem like the Woven City is multi-layered and will have three types of streets interwoven on the ground level. Travelling around the city will only be possible by e-Palette, electrified zero-emission vehicles, completely autonomous. Neighbourhood parks, a large central park for recreation and a central plaza for social gatherings are designed to bring the community together.
The community will start with 360 residents gradually growing to include more than 2,000 individuals, including Toyota employees.
Toyota wants to test a hydrogen-based society nearby a fully hydrogen-based supply chain, from production, delivery to usage. That's the primary goal of Woven City. Through this effort, the company wants to lead the way towards a carbon-neutral society by 2050.
Systemic efficiency: Currently, around 8 billion people live on Planet Earth. According to the United Nations (UN), this number will reach 10 billion in 2050 and peak at nearly 11 billion around 2100. This growth has enormous environmental implications, and as a first step, every nation has to intensify efforts to reach the UN Sustainable Development Goals (SDGs).
Across the globe, cities account for nearly two-thirds of the CO2 emissions. Homes, buildings, and transportation in cities consume a large amount of high CO2 content energy. Right now, just over half the population lives in cities, but that is projected to rise to 68% by 2050, resulting in even higher energy consumption and CO2 emissions.
To limit the global temperature increase to 1.5-degrees, nature and technology must co-exist in harmony in future cities. The Woven city project may be the first and most helpful example.
To mitigate climate change issues, we need to produce more energy from renewable sources, more energy efficiency and more electric transportation. An intelligent energy infrastructure through digitalization is a key to integrate these actions and make the transition successful.
By taking a holistic approach, cities like Woven City have an opportunity to boost their resilience to a range of future climate and health-related crises and to create jobs and other economic and health benefits. This approach, defined as "systemic efficiency," encompasses efficiency, clean electrification, smart digital technology, and efficient buildings and infrastructure, along with a circular economy approach to water, waste and materials. Central to this approach is innovation.
Cape Town, São Paolo, Stockholm are just three of the world's major developed cities. Citizens of these three cities are already seeing more electric vehicles on their roads, smart technology for better water treatment and recycling schemes, and more solar panels on rooftops.
Systemic efficiency enables a decarbonized, highly electrified and resilient city ecosystem through ultra-efficient buildings and intelligent energy infrastructure.
Smart cities and smart citizens: Woven city will reply on a massive amount of data, a smart city at the citizen's service, constantly adapting to the users' needs.
The transition from smart citizens to smart cities is a gradual process.
Smart cities are complex relationships, and if a link in the chain fails, everything will fail. It is necessary to strengthen each link in the chain with scientists, researchers and citizens who experience smart cities first-hand using it daily. Smart cities and the tools it offers also serve as a forecast to avoid catastrophe.
Replicability will be crucial. From an inclusive perspective, smart cities "learn, grow and evolve" according to the needs of the stakeholders.
The resilience of smart building-smart homes lies in the fact that the products match the citizens' needs – including the citizen's well-being and health. That's the example Woven city promises to set.
Eusebio Loria