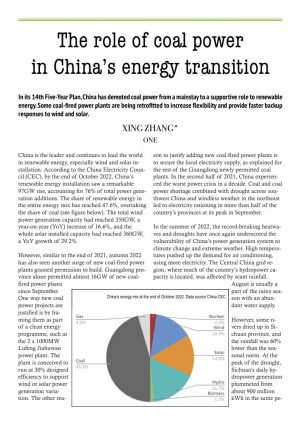 China is the leader and continues to lead the world in renewable energy, especially wind and solar installation. According to the China Electricity Council (CEC), by the end of October 2022, China's renewable energy installation saw a remarkable 97GW rise, accounting for 76% of total power generation additions. The share of renewable energy in the entire energy mix has reached 47.6%, overtaking the share of coal (see figure below). The total wind power generation capacity had reached 350GW, a year-on-year (YoY) increase of 16.6%, and the whole solar installed capacity had reached 360GW, a YoY growth of 29.2%.
However, similar to the end of 2021, autumn 2022 has also seen another surge of new coal-fired power plants granted permission to build. Guangdong province alone permitted almost 16GW of new coal-fired power plants since September. One way new coal power projects are justified is by framing them as part of a clean energy programme, such as the 2 x 1000MW Lufeng Jiahuwan power plant. The plant is conceived to run at 30% designed efficiency to support wind or solar power generation variation. The other reason to justify adding new coal-fired power plants is to secure the local electricity supply, as explained for the rest of the Guangdong newly permitted coal plants. In the second half of 2021, China experienced the worst power crisis in a decade. Coal and coal power shortage combined with drought across southwest China and windless weather in the northeast led to electricity rationing in more than half of the country's provinces at its peak in September.
In the summer of 2022, the record-breaking heatwaves and droughts have once again underscored the vulnerability of China's power generation system to climate change and extreme weather. High temperatures pushed up the demand for air conditioning, using more electricity. The Central China grid region, where much of the country's hydropower capacity is located, was affected by scant rainfall. August is usually a part of the rainy season with an abundant water supply.
However, some rivers dried up in Sichuan province, and the rainfall was 60% lower than the seasonal norm. At the peak of the drought, Sichuan's daily hydropower generation plummeted from about 900 million kWh in the same period to 440 million kWh. As China's largest hydropower-producing province, the weak hydropower output led to a severe power shortage in Sichuan. Factories were ordered to either shut down entirely or limit production, and households and services were urged to save power. Both power crises resulted from extreme weather conditions and exposed weaknesses and rigidities in China's power system management.
The 2021 crisis was caused by government efforts to lower electricity costs as part of a COVID-19 recovery policy focused on supporting industrial output, along with anti-corruption and safety campaigns affecting coal mine output. The government's immediate response was to shore up the profitability of coal-fired power generation by increasing the tariffs paid to generators. Pro-coal interests also successfully utilised the crisis to rewrite the country's energy policy, paradoxically resulting in policy shifts that perpetuate the country's dependence on coal.
Despite the lack of hydropower contribution, the Central China Grid region would have been able to meet local power demand comfortably in the Summer of 2022, but for one factor: the region continued to export enormous amounts of hydropower to eastern provinces under inflexible, fixed contracts.
There are also indications that coal and gas power plants failed to operate at full capacity during the shortage due to the high fuel prices, contributing to the scarcity. On both occasions, the lack of flexible grid management perpetuates the reliance on coal power and creates a perceived need to build more of it. Adding more to its already massive coal power fleet will pose a significant challenge for China to achieve its dual-carbon goals – peaking its carbon emissions by 2030 and achieving carbon neutrality by 2060. China needs to decarbonise its power sector and rebuild it around clean energy to attain its carbon commitment. China's impressive wind and solar development pose an urgent need for its energy system to transform as it was not built to accommodate large amounts of variable clean power.
In its 14th Five-Year Plan, China has demoted coal power from a mainstay to a supportive role to renewable energy. Some coal-fired power plants are being retrofitted to increase flexibility and provide faster backup responses to wind and solar. However, some new coal power plants are being added for the same reason.
Operating higher-cost coal power generators at very low utilisation results in significant losses of revenue and should only be a transitional option. China needs to invest heavily in developing battery storage and pumped hydro systems, as well as more innovative and flexible grid operation and planning. It must reform the electricity markets and incentives for more active demand-side responses. Emerging technologies, such as hydrogen and thermal energy storage, must also be promoted. Electricity shortages experienced in the autumn of 2021 sped up grid reforms that had been delayed for a long time. This summer's power crunch is likely to accelerate this process further.
China's energy planners have to balance the country's energy security and climate commitment. Making grid operation more flexible is the key to avoiding electricity shortages, reducing the need for coal-fired power as a backup and transitioning to a clean energy grid. Using coal power as a supporting pillar to provide a flexible energy supply should only be a short-term solution. A long-term plan should be made to promote the uptake of clean flexibility technologies.
Xing Zhang*

* In collaboration with:
Lauri Myllyvirta (Centre for Research on Energy and Clean Air)
Muyi Yang (Ember)
Xunpeng Shi (Australia-China Relations Institute, University of Technology Sydney)