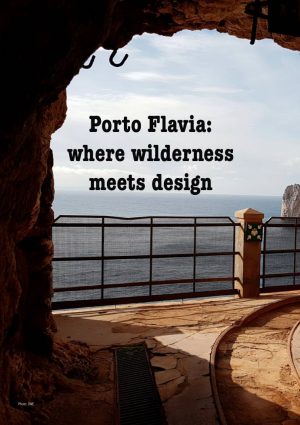 "This is not a coal mine but a sea harbour," this is how the Sardinian Geopark guides typically introduce Porto Flavia to tourists and visitors. The site has so many virtues and strong points that there is no need to add anything else.
Porto Flavia is a rare combination of [natural] beauty with brains. Rare indeed. Hardly you can find another place which happens to be revered as a monument to the coal industry heritage and also as a totem of uncontaminated nature and a symbol of the human talent in the designing and engineering fields.
Built in two years, between 1922 and 1924, in the South-West coast of Sardinia, next to the now abandoned Masua village, Porto Flavia it was the solution provided by the Italian engineer Cesare Vercelli to the mining companies' request to ensure quicker and safer ways to load boats with the mineral extracted in the Sulcis area. Vercelli explored the coastline, studied local winds and tide and found the right spot just opposite the Pan di Zucchero cliff, which could act as a natural shelter capable to protect ships from the dominant Mistral wind and allow a quicker and safer loading activity, just as required.
Finding the right location was decisive but only half of the task. The second part involved the designing of two 2,000 ft tunnels, linked between themselves by nine vertical reservoirs. The two tunnels were the missing link between the railway and the sea – the mineral carried by trains was unloaded by gravity from the upper cave to reach the 52 ft conveyor belt in the lower tunnel that would load the coal directly on the ship.
Virtually inactive since the 60s, it has become a UNESCO-protected site and one of the most appreciated destinations amongst industrial archeology tourists. Flavia was the name of Cesare Vercelli's daughter, born a few weeks before the harbor opening. ONE

Below some archive pictures, courtesy from IGEA and ASM (Archivio storico Minerario, collezione digitale):