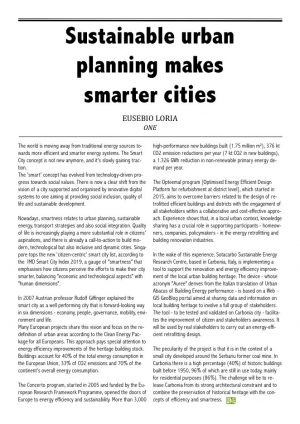 The world is moving away from traditional energy sources towards more efficient and smarter energy systems. The Smart City concept is not new anymore, and it's slowly gaining traction.
The 'smart' concept has evolved from technology-driven progress towards social values. There is now a clear shift from the vision of a city supported and organised by innovative digital systems to one aiming at providing social inclusion, quality of life and sustainable development.
Nowadays, smartness relates to urban planning, sustainable energy, transport strategies and also social integration. Quality of life is increasingly playing a more substantial role in citizens' aspirations, and there is already a call-to-action to build modern, technological but also inclusive and dynamic cities. Singapore tops the new 'citizen-centric' smart city list, according to the IMD Smart City Index 2019, a gauge of "smartness" that emphasises how citizens perceive the efforts to make their city smarter, balancing "economic and technological aspects" with "human dimensions".
In 2007 Austrian professor Rudolf Giffinger explained the smart city as a well performing city that is forward-looking way in six dimensions – economy, people, governance, mobility, environment and life. Many European projects share this vision and focus on the redefinition of urban areas according to the Clean Energy Package for all Europeans. This approach pays special attention to energy efficiency improvements of the heritage building stock. Buildings account for 40% of the total energy consumption in the European Union, 33% of CO2 emissions and 70% of the continent's overall energy consumption.
The Concerto program, started in 2005 and funded by the European Research Framework Programme, opened the doors of Europe to energy efficiency and sustainability. More than 3,000 high-performance new buildings built (1.75 million m²), 376 kt CO2 emission reductions per year (7 kt CO2 in new buildings), a 1.326 GWh reduction in non-renewable primary energy demand per year.
The Opteemal program [Optimised Energy Efficient Design Platform for refurbishment at district level], which started in 2015, aims to overcome barriers related to the design of retrofitted efficient buildings and districts with the engagement of all stakeholders within a collaborative and cost-effective approach. Experience shows that, in a local urban context, knowledge sharing has a crucial role in supporting participants – homeowners, companies, policymakers – in the energy retrofitting and building renovation industries.
In the wake of this experience, Sotacarbo Sustainable Energy Research Centre, based in Carbonia, Italy, is implementing a tool to support the renovation and energy efficiency improvement of the local urban building heritage. The device – whose acronym "Auree" derives from the Italian translation of Urban Abacus of Building Energy performance – is based on a Web – GIS GeoBlog portal aimed at sharing data and information on local building heritage to involve a full group of stakeholders.
The tool – to be tested and validated on Carbonia city – facilitates the improvement of citizen and stakeholders awareness. It will be used by real stakeholders to carry out an energy-efficient retrofitting design.
The peculiarity of the project is that it is in the context of a small city developed around the Serbariu former coal mine. In Carbonia there is a high percentage (40%) of historic buildings built before 1950, 96% of which are still in use today, mainly for residential purposes (86%). The challenge will be to release Carbonia from its strong architectural constraint and to combine the preservation of historical heritage with the concepts of efficiency and smartness.
Eusebio Loria