In March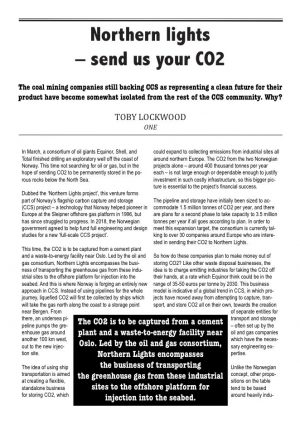 , a consortium of oil giants Equinor, Shell, and Total finished drilling an exploratory well off the coast of Norway. This time not searching for oil or gas, but in the hope of sending CO2 to be permanently stored in the porous rocks below the North Sea.
Dubbed the 'Northern Lights project', this venture forms part of Norway's flagship carbon capture and storage (CCS) project – a technology that Norway helped pioneer in Europe at the Sleipner offshore gas platform in 1996, but has since struggled to progress. In 2018, the Norwegian government agreed to help fund full engineering and design studies for a new 'full-scale CCS project'.
This time, the CO2 is to be captured from a cement plant and a waste-to-energy facility near Oslo. Led by the oil and gas consortium, Northern Lights encompasses the business of transporting the greenhouse gas from these industrial sites to the offshore platform for injection into the seabed. And this is where Norway is forging an entirely new approach in CCS. Instead of using pipelines for the whole journey, liquefied CO2 will first be collected by ships which will take the gas north along the coast to a storage point near Bergen. From there, an undersea pipeline pumps the greenhouse gas around another 100 km west, out to the new injection site.
The idea of using ship transportation is aimed at creating a flexible, standalone business for storing CO2, which could expand to collecting emissions from industrial sites all around northern Europe. The CO2 from the two Norwegian projects alone – around 400 thousand tonnes per year each – is not large enough or dependable enough to justify investment in such costly infrastructure, so this bigger picture is essential to the project's financial success.
The pipeline and storage have initially been sized to accommodate 1.5 million tonnes of CO2 per year, and there are plans for a second phase to take capacity to 3.5 million tonnes per year if all goes according to plan. In order to meet this expansion target, the consortium is currently talking to over 30 companies around Europe who are interested in sending their CO2 to Northern Lights.
So how do these companies plan to make money out of storing CO2? Like other waste disposal businesses, the idea is to charge emitting industries for taking the CO2 off their hands, at a rate which Equinor think could be in the range of 35-50 euros per tonne by 2030. This business model is indicative of a global trend in CCS, in which projects have moved away from attempting to capture, transport, and store CO2 all on their own, towards the creation of separate entities for transport and storage – often set up by the oil and gas companies which have the necessary engineering expertise.
Unlike the Norwegian concept, other propositions on the table tend to be based around heavily industrialised areas, such as the Port of Rotterdam in the Netherlands or the Teesside and Humberside regions of the UK.
There is greater uncertainty about how the emitters will pay the fee for this service. Ultimately, it will need to be covered by climate policies which could raise the value of their production – be that power, cement, steel, or chemicals – enough to cover the cost of both capturing CO2 and paying for storage.
These policies are still very much under development across Europe, although promising ideas include guaranteed power prices and a premium for low-carbon products. However, it is clear there is a lot of interest from industries concerned about their long-term viability in a low-carbon world, and providing this simple 'you pay, we'll take it away' solution certainly removes a lot of the barriers faced by earlier attempts at large-scale CCS.
A fundamental problem with building this kind of infrastructure is that it is a risky prospect for the private sector, when success depends on CO2 capture projects emerging to fill the store. On the other hand, many capture projects won't go ahead until they know the store is there. Known as the 'chicken and egg' problem, this often requires government intervention to resolve.
In this case, the Norwegian government has already helped fund the exploration well, and is planning to invest heavily in the initial infrastructure. From then on, 'Big Oil' is expected to make the business profitable. Critics of this approach question the idea of handing over assets to polluting companies to help them make more money out of 'cleaning up their mess'.
A more coercive approach would be to require fossil fuel producers to store some fraction of the carbon they extract; but for now, oil and gas companies appear to be holding the cards.
With the drilling tests completed, an investment decision from the Northern Lights consortium is expected sometime this spring. Still, everything will depend on the decision of the Norwegian government later in the year. If the project gets the greenlight, construction is expected to take three years, and be operational in 2024. It may not be long before we see CO2 tankers sailing our seas.
Toby Lockwood