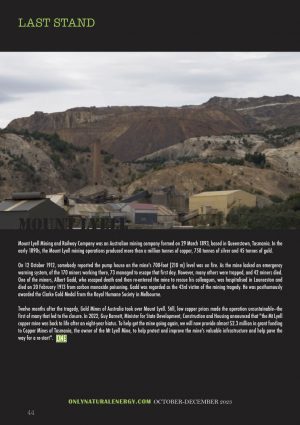 Mount Lyell Mining and Railway Company was an Australian mining company formed on 29 March 1893, based in Queenstown, Tasmania. In the early 1890s, the Mount Lyell mining operations produced more than a million tonnes of copper, 750 tonnes of silver and 45 tonnes of gold.
On 12 October 1912, somebody reported the pump house on the mine's 700-foot (210 m) level was on fire. As the mine lacked an emergency warning system, of the 170 miners working there, 73 managed to escape that first day. However, many others were trapped, and 42 miners died.
One of the miners, Albert Gadd, who escaped death and then re-entered the mine to rescue his colleagues, was hospitalised in Launceston and died on 20 February 1913 from carbon monoxide poisoning. Gadd was regarded as the 43rd victim of the mining tragedy. He was posthumously awarded the Clarke Gold Medal from the Royal Humane Society in Melbourne.
Twelve months after the tragedy, Gold Mines of Australia took over Mount Lyell. Still, low copper prices made the operation unsustainable—the first of many that led to the closure. In 2022, Guy Barnett, Minister for State Development, Construction and Housing announced that "the Mt Lyell copper mine was back to life after an eight-year hiatus. To help get the mine going again, we will now provide almost $2.3 million in grant funding to Copper Mines of Tasmania, the owner of the Mt Lyell Mine, to help protect and improve the mine's valuable infrastructure and help pave the way for a re-start".