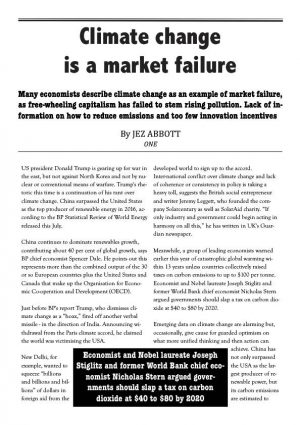 US president Donald Trump is gearing up for war in the east, but not against North Korea and not by nuclear or conventional means of warfare. Trump's rhetoric this time is a continuation of his rant over climate change. China surpassed the United States as the top producer of renewable energy in 2016, according to the BP Statistical Review of World Energy released this July.
China continues to dominate renewables growth, contributing about 40 per cent of global growth, says BP chief economist Spencer Dale. He points out this represents more than the combined output of the 30 or so European countries plus the United States and Canada that make up the Organisation for Economic Co-operation and Development (OECD).
Just before BP's report Trump, who dismisses climate change as a "hoax," fired off another verbal missile – in the direction of India. Announcing withdrawal from the Paris climate accord, he claimed the world was victimising the USA.
New Delhi, for example, wanted to squeeze "billions and billions and billions" of dollars in foreign aid from the developed world to sign up to the accord. Inter-national conflict over climate change and lack of coherence or consistency in policy is taking a heavy toll, suggests the British social entrepreneur and writer Jeremy Leggett, who founded the company Solarcentury as well as SolarAid charity. "If only industry and government could begin acting in harmony on all this," he has written in UK's Guardian newspaper.
Meanwhile, a group of leading economists warned earlier this year of catastrophic global warming within 13 years unless countries collectively raised taxes on carbon emissions to up to $100 per tonne. Economist and Nobel laureate Joseph Stiglitz and former World Bank chief economist Nicholas Stern argued governments should slap a tax on carbon dioxide at $40 to $80 by 2020.
Emerging data on climate change are alarming but, occasionally, give cause for guarded optimism on what more unified thinking and then action can achieve. China has not only surpassed the USA as the largest producer of renewable power, but its carbon emissions are estimated to have fallen over the past two years, after growing by more than 75 per cent in the previous ten years, adds Dale. Greenpeace has also flagged up a positive shift in dynamic from what was once one of the world's worst polluters. By the end of July 2017, China's solar photovoltaic capacity topped 112 gigawatts, according to an online story from the environmental charity's Energy Desk, which went on to report about the installation of a "stunning" 35 GW in just seven months. Wind power is also hot.
China is well on course to thump out considerably more than the total wind power capacity of all of Europe including the UK. In fact, the astounding growth of wind and solar power in China means the country is on track to generate equal to Germany's total electricity consumption by 2020. Wind and solar amount to around 9% of China's own consumption, up from 5.2% last year.
And yet, as the Greenpeace Energy Desk insists, "it's not all rosy". The Guardian newspaper echoes this in a climate change series of 'frequently asked questions' including this specific one: Why do economists describe climate change as a market failure? The report, in collaboration with Grantham Research Institute at the London School of Economics (LSE), identified several market failures.
Many economists describe climate change as an example of market failure, as free-wheeling capitalism has failed to stem rising pollution. Adverse effects of greenhouse gases are usually seen as ethical, not economic, issues. A number of other market failures include those arising from a lack of information on how to reduce emissions and too few innovation incentives. Such incentives, or disincentives, include a highly controversial one: taxation. This September asset management company Schroders warned more than $1.5 trillion in company profits worldwide could be wiped out by taxes required to meet the Paris climate agreement. Intensive users of natural resources such as construction and steel firms could see profits topple 80 per cent.
Schroders' head of sustainable research Andy Howard says higher taxes to discourage heavy use of fossil fuels have come in the form of carbon pricing. Many schemes in the UK and Europe involve quota systems, where companies trade pollution permits on an exchange. The EU's emissions trading system (ETS) is the world's biggest scheme for trading greenhouse gas emissions allowances. It covers 11,000 power stations and industrial plants. And while Trump rejects calls to introduce a carbon tax in the US saying it would cost jobs, more countries are adopting carbon pricing, including China. President Xi Jinping has announced the country is to launch the world's largest market for emissions permits this year. When the Chinese scheme goes ahead, almost a quarter of the world's emissions will have a price attached.
Meanwhile, momentum for action on climate change is growing. At the end of August, a court in Brazil suspended mining on the Amazon's Renca reserve, which was a slap in the face for the country's president. Michel Temer had only recently signed a decree allowing the reserve, which is bigger than the size of Denmark, to be opened up to commercial mineral exploration.
The 46,000 square kilometres of land contain gold, manganese, iron and copper, but are also home to nature and tribal communities. Judge Rolando Spanholo said the government had failed to consult its congress, as required under the constitution, and the decree would "put at risk the environmental protection of Renca and the protection of local indigenous communities". Temer insists opening up the gold and mineral-rich area to mining is vital to boost Brazil's weak economy. But campaign groups like Greenpeace, the World Wildlife Fund (WWF), celebrities, and Brazil's influential Catholic elite, have shown how a more unified example than currently demonstrated by many world leaders and national policy makers can result in positive action on the world's climate.
"Pressure is working," a Greenpeace Twitter post read after the court ruling. "We mustn't stop."
Jez Abbott