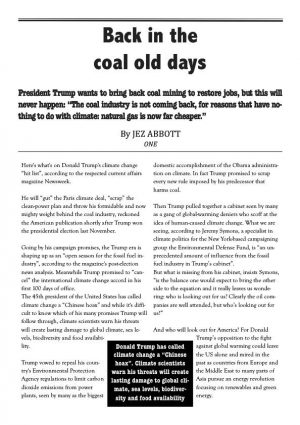 Here's what's on Donald Trump's climate change "hit list", according to the respected current affairs magazine Newsweek. He will "gut" the Paris climate deal, "scrap" the clean-power plan and throw his formidable and now mighty weight behind the coal industry, reckoned the American publication shortly after Trump won the presidential election last November.
Going by his campaign promises, the Trump era is shaping up as an "open season for the fossil fuel industry", according to the magazine's post-election news analysis. Meanwhile Trump promised to "cancel" the international climate change accord in his first 100 days of office. The 45th president of the United States has called climate change a "Chinese hoax" and while it's difficult to know which of his many promises Trump will follow through, climate scientists warn his threats will create lasting damage to global climate, sea levels, biodiversity and food availability.
Trump vowed to repeal his country's Environmental Protection Agency regulations to limit carbon dioxide emissions from power plants, seen by many as the biggest domestic accomplishment of the Obama administration on climate. In fact Trump promised to scrap every new rule imposed by his predecessor that harms coal. Then Trump pulled together a cabinet seen by many as a gang of global-warming deniers who scoff at the idea of human-caused climate change.
What we are seeing, according to Jeremy Symons, a specialist in climate politics for the New York-based campaigning group the Environmental Defense Fund, is "an unprecedented amount of influence from the fossil fuel industry in Trump's cabinet". But what is missing from his cabinet, insists Symons, "is the balance one would expect to bring the other side to the equation and it really leaves us wondering: who is looking out for us? Clearly the oil companies are well attended, but who's looking out for us?" And who will look out for America? For Donald Trump's opposition to the fight against global warming could leave the US alone and mired in the past as countries from Europe and the Middle East to many parts of Asia pursue an energy revolution focusing on renewables and green energy.
So if and while Trump fulfils his promise to cancel the Paris deal and stimulate coal production, other leaders including those from across the European Union, China and Saudi Arabia, are pledging to redouble their uptake of renewable energy at the expense of fossil fuels. Trump's stance also flies in the face of envoys from almost 200 other countries who used late November's COP22 meeting in Marrakech, Morocco, to reaffirm efforts to clean up the world's energy supply and limit climate change. Although Trump talks the talk, can he walk the walk? Professor Bob Lowe, a director of the University College London (UCL) Energy Institute in London, says a possible outcome of the Trump presidency on the Paris agreement may be that the US "reneges" on environmental policy, putting a "large question" mark over whether the world will be able to deliver on its global temperature targets. "The situation will not begin to clarify until well into 2017. All that can be said now is that we have entered a period of significant uncertainty. We have already had decades of delay since the Rio Earth Summit of 1992 – the one thing the world cannot afford with respect to climate change is further delay."
However, according to corporate institution Bloomberg, Trump won't be able to reverse a drop in the cost of wind and solar power, which is tipping the economics away from the most polluting fuels. In short, Trump is isolated, reckons Alden Meyer of US advocacy group the Union of Concerned Scientists. "Not one single country has said if Trump pulls the US out of Paris, they will join him in leaving. Not one." Just how out of step Trump is was summed up at COP22 by European Union climate commissioner Miguel Arias Canete: "The world is on the brink of an energy revolution. We will change the way we produce and consume energy. When you take office, you have to see what the global trends are. If you go against the global trend, you make a mistake."
Benjamin Santer, a climate researcher at the National Academy of Sciences, adds: "We don't have the luxury of remaining silent because decisions about whether the US is in or outside of the Paris climate agreement may affect all of us — they literally affect the kind of world we're going to leave behind for future generations," But it's not just climate scientists and activists who are against Trump's plans, so too are simple economics, says Steven Cohen, director of Columbia University's Earth Institute. Trump wants to bring back coal mining to restore jobs, but this will never happen: "The coal industry is not coming back, for reasons that have nothing to do with climate: natural gas is now far cheaper."
Trump's election sent shock waves, but a few weeks on, a new resolve seems to have emerged. The international desire to tackle climate remains strong, according to Lord Nick Stern, a world-leading climate economist at the London School of Economics, who told the UK's ITV news channel he was reserving judgement on the Trump administration. Lord Stern also said that, whether or not Trump thinks climate change is an important issue, investing in clean technology could be a way for the new president to create the new manufacturing jobs that the new president promised to middle America.
Climate action in the US will continue, even if the federal government does not push it forward or tries to obstruct it. Major cities, states, companies across the country are already reducing their carbon footprint and investing in new technology for a cleaner environment, he says. Liz Gallagher from climate group E3G agrees: "How the world acts in the next few, critical, years will determine whether or not we avoid dangerous climate change by the end of this century. With the election of Donald Trump, that task has become a little harder – but climate scientists, enlightened politicians and businesses seem to be determined to stay on the right path."
Jez Abbott