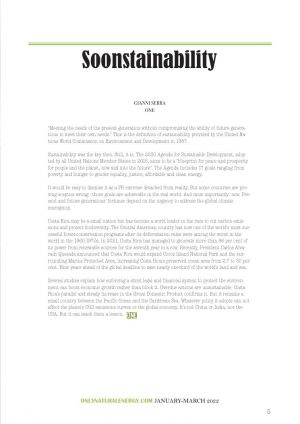 "Meeting the needs of the present generation without compromising the ability of future generations to meet their own needs." This is the definition of sustainability provided by the United Nations World Commission on Environment and Development in 1987.
Sustainability was the key then. Still, it is. The 2030 Agenda for Sustainable Development, adopted by all United Nations Member States in 2015, aims to be a "blueprint for peace and prosperity for people and the planet, now and into the future". The Agenda includes 17 goals ranging from poverty and hunger to gender equality, justice, affordable and clean energy.
It would be easy to dismiss it as a PR exercise detached from reality. But some countries are proving sceptics wrong – those goals are achievable in the real world. And most importantly: now. Present and future generations' fortunes depend on the urgency to address the global climate emergency.
Costa Rica may be a small nation but has become a world leader in the race to cut carbon emissions and protect biodiversity. The Central American country has now one of the world's most successful forest-conservation programs after its deforestation rates were among the worst in the world in the 1960-1970s. In 2021, Costa Rica has managed to generate more than 98 per cent of its power from renewable sources for the seventh year in a row. Recently, President Carlos Alvarado Quesada announced that Costa Rica would expand Cocos Island National Park and the surrounding Marine Protected Area, increasing Costa Rica's preserved ocean area from 2.7 to 30 per cent. Nine years ahead of the global deadline to save nearly one-third of the world's land and sea.
Several studies explain how enforcing a strict legal and financial system to protect the environment can boost economic growth rather than block it. Overdue actions are unsustainable. Costa Rica's parallel and steady increase in the Gross Domestic Product confirms it. But it remains a small country between the Pacific Ocean and the Caribbean Sea. Whatever policy it adopts can not affect the planet's CO2 emissions curves or the global economy. It's not China or India, nor the USA. But it can teach them a lesson.
Gianni Serra