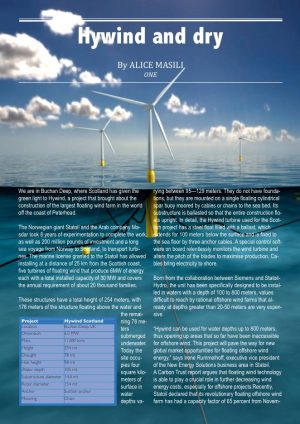 We are in Buchan Deep, where Scotland has given the green light to Hywind, a project that brought about the construction of the largest floating wind farm in the world off the coast of Peterhead.
The Norwegian giant Statoil and the Arab company Masdar took 8 years of experimentation to complete the work, as well as 200 million pounds of investment and a long sea voyage from Norway to Scotland, to transport turbines. The marine license granted to the Statoil has allowed installing at a distance of 25 km from the Scottish coast, five turbines of floating wind that produce 6MW of energy each with a total installed capacity of 30 MW and covers the annual requirement of about 20 thousand families.
These structures have a total height of 254 meters, with 176 meters of the structure floating above the water and the remaining 78 meters submerged underwater. Today the site occupies four square kilometers of surface in water depths varying between 95—129 meters. They do not have foundations, but they are mounted on a single floating cylindrical spar buoy moored by cables or chains to the sea bed. Its substructure is ballasted so that the entire construction floats upright. In detail, the Hywind turbine used for the Scottish project has a steel float filled with a ballast, which extends for 100 meters below the surface and is fixed to the sea floor by three anchor cables. A special control software on board relentlessly monitors the wind turbine and alters the pitch of the blades to maximise production. Cables bring electricity to shore.
Born from the collaboration between Siemens and StatoilHydro, the unit has been specifically designed to be installed in waters with a depth of 100 to 800 meters, values difficult to reach by rational offshore wind farms that already at depths greater than 20-50 meters are very expensive.
"Hywind can be used for water depths up to 800 meters, thus opening up areas that so far have been inaccessible for offshore wind. This project will pave the way for new global market opportunities for floating offshore wind energy," says Irene Rummelhoff, executive vice president of the New Energy Solutions business area in Statoil.
A Carbon Trust report argues that floating wind technology is able to play a crucial role in further decreasing wind energy costs, especially for offshore projects.Recently, Statoil declared that its revolutionary floating offshore wind farm has had a capacity factor of 65 percent from November to January, performing better than the onshore wind farms. According to the Energy Information Administration (EIA), the most efficient onshore wind installation in the US enjoyed an average capacity factor of about 36.7 percent in 2017. Solar photovoltaic installations had an average capacity factor of 27 percent in 2017. Even combined-cycle coal and natural gas plants had a capacity factors of 54 to 55 percent in 2017.The comparison between Hywind's 65-percent capacity factor in the winter, when the wind is at its strongest, and other renewable installations over the whole year isn't quite fair. But Statoil says the typical capacity factor for an bottom fixed offshore wind farm is 45-60% in winter, suggesting that it is advantageous to use floating wind farms. In fact, the turbines can be placed farther out to the sea where wind is more consistent and stronger. In addition, in this first period Hywind withstood the Ophelia Hurricane, with a wind speed of 35 meter/seconds and the storm Caroline, even stronger, with gusts of 45 m/s (160 km/h) and waves as high as 8,2 meter.
Bader Al Lamki, executive director for Clean Energy at Masdar, said: "These outstanding results illustrate the durability of floating wind technology and its ability to perform safely and above target in the toughest conditions."
Furthermore, Statoil and the Masdar partner announced the intention to improve energy management, thanks to the implementation of a new 1MWh lithium battery called Batwind, that will allow Hywind Scotland to work even more efficiently optimizing the supply and limiting the intermittences. This is the first battery storage system connected to a floating wind farm.
"As part of Statoil's strategy of gradually supplementing our oil and gas portfolio with profitable renewable energy, getting to understand energy storage is important. With more renewables coming into production it will be crucial to handle storage to ensure predictable energy supply in periods without wind or sun. Batwind has the potential to add value by mitigating periods without wind – and by that making wind a more reliable energy producer year around. This could expand the use and market for wind and renewables in the future," says head of Hywind Development in Statoil, Sebastian Bringsværd.
The new plant will not only contribute to reducing the environmental impact by providing "clean" energy: thanks to Hywind, Statoil intends to reduce the cost of energy produced up to 40-60 euros per MWh by 2030. This pilot project highlights the wind potential in Scotland and positions it at the forefront of the global race to develop the next generation of offshore wind technologies.
Furthermore, the commercialization of these floating turbines opens new frontiers to the offshore wind market, making available new marine spaces in the Mediterranean (France, Spain, Italy), in the Atlantic (Portugal, Spain, France, Great Britain, Scotland, Ireland ), in the North Sea and the Baltic, as well as on the United States, both in the Atlantic and in the Pacific, and in the eastern seas for the countries bordering on them (China, Japan, Korea).
Exiting times ahead. But what about the environmental impact? Very difficult to evaluate. Surely, positioning the turbines at least 15 kilometers from the coast would solve the acoustic and aesthetic problems. Regarding the consequences on the ecosystem and fauna, several studies, such as the 2012 Environmental Research Letters, have shown how wind installations offshore in the North Sea have had negligible impacts on the natural habitat and fauna.
Other studies have shown that wind turbines do not disturb birds.According to Plymouth University research, offshore wind could even have a positive impact on marine life, while turbine structures could recreate a similar habitat to natural reefs. In addition, fishing is prohibited in offshore wind farms, so fish could take refuge near the park. Wind energy can significantly reduce CO2 emissions without threatening energy security or marine wildlife.
According to the Martin Attrill report of the Plymouth University – Marine Institute, the spread of offshore wind is necessary to drastically reduce dependence on fossil fuels and to cut the harmful emissions that cause ocean acidification, global warming and all the consequences linked to climate change.
Views not shared by the Royal Society for the Protection of Birds, a charitable organisation who fights the project as likely to threaten resident and migratory birds: "From our own analysis and that of the Statutory Nature Conservation Bodies it is apparent that the environmental carrying capacity is already exceeded and protected areas, such as Fowlsheugh Special Protection Area, will see significant reductions in its protected kittiwake population as a direct result of offshore wind farm impacts. This population has seen dramatic declines across Scotland, up to 72 per cent loss since 1986, a decline that is reflected in the Fowlsheugh kittiwake numbers. Scottish Ministers must take account of these issues before making decisions on any further offshore wind".
Alice Masili